Hello & thanks for stopping by The Sataal Pages.
---
We are still under major construction & reformatting, so please bear with me while I'm putting it all together because it may take a while. Who is Sataal & what all will be in the The Sataal Pages? I'm so glad you asked. Sataal is a 7/8 Part Arabian gelding that I had the pleasure of being owned by for a short while. Unforutately, due to an usually heavy work load and the fact that he wasn't happy being an only horse, I had to give him up. He is now owned by a very nice family with a teenage son and I've been given visiting rights. This site is dedicated solely to him, his pedigree & his relatives and siblings.
---
I've always admired the Arabian, but I really know very little about them. So, I figured that by studying Sataal's pedigree I might learn a little in the process. And so far I have. One of the main things that I've learned so far is that I really have A LOT more to learn! :-)
Also, since I'm doing all of this work tracing his pedigree, I figured I might as well put it all in one place on the web so others can use it themselves and/or let me know where I've made mistakes. :-)

---
I'd also like to find as many of Sataal's half-siblings, their offspring, and close relatives as possible. So, if you have an Arabian or Part Arabian with the following three stallions in their pedigree, please let us know and I will put them up.

Bo-Mars Sadeek - AHR#225231 (Tornado x Dal-Sarayah ) a grey foaled March 19, 1981

Eltuhotmos - AHR#107448 (*Tuhotmos x Griffin Gafair) a bay foaled June 8, 1974

Valario - AHR#47934 (Jameel El Hirzez x Lailah) a grey foaled March 10, 1968

---
JM Sataal - 16 year old 7/8 part Arabian gelding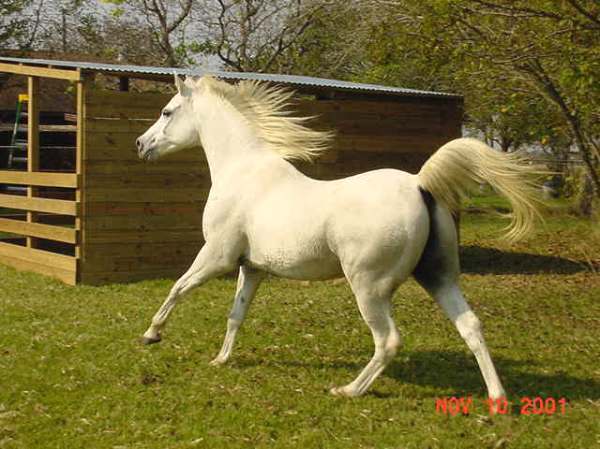 Photo by RMFrench© 2001

---